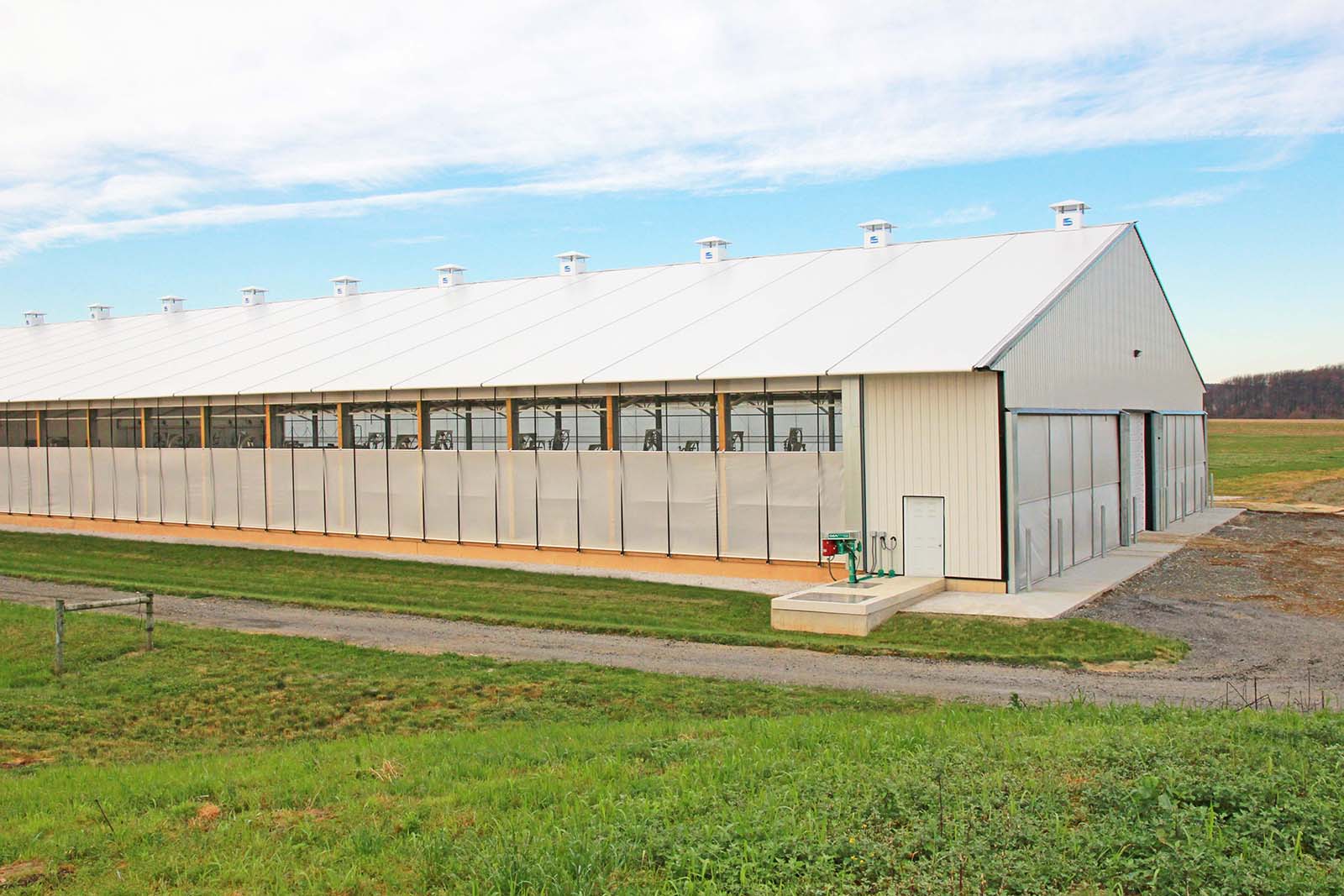 Take Advantage of Natural Ventilation for Optimal Animal Health!
Sturdy Built Double Roll-Up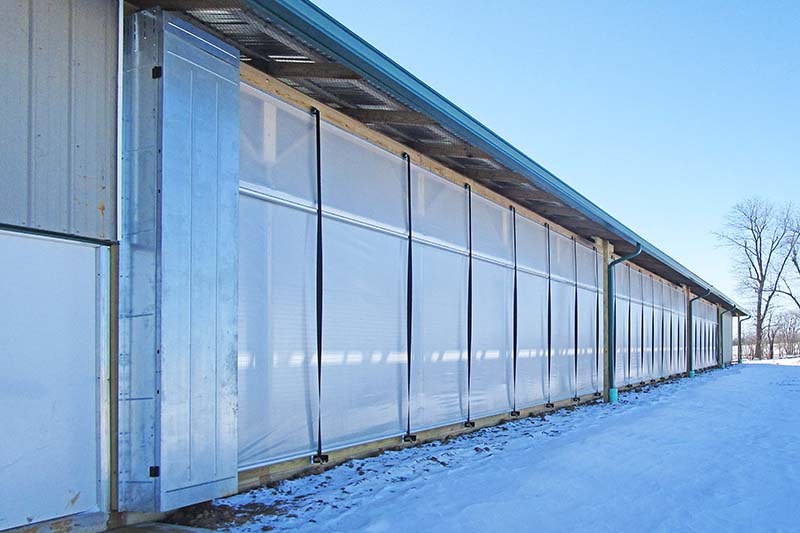 Used primarily on free stall barns with high side walls, the Sturdy Built Double Roll-up Curtain is a maintenance-free system with convenience and flexibility. The 70:30 lower and upper variable height allows the air to enter the barn at a higher level in cooler weather, minimizing uncomfortable airflow. The lower portion can be rolled up for maximum ventilation during warm summer months.
Sturdy Built Center Roll-Up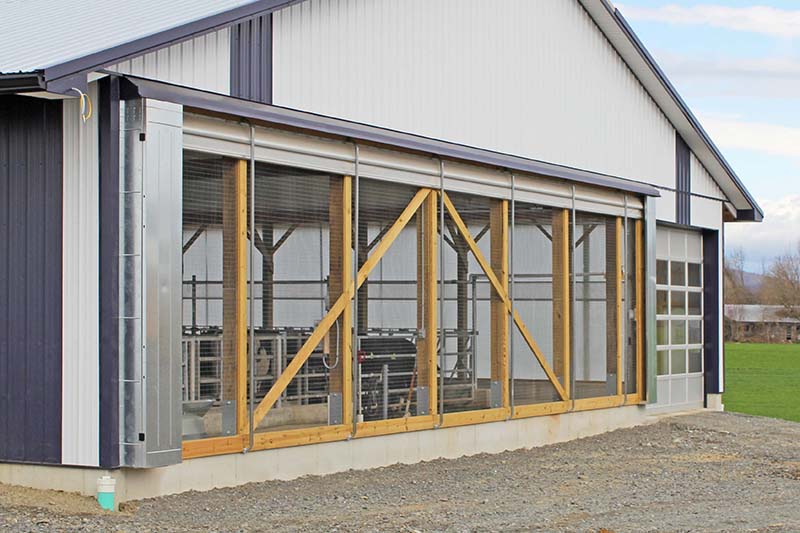 The Sturdy Built Center Roll-up Curtain is designed especially for the gable ends on free stall barns, or on any facility where overhead clearance is needed. The durable wind restraint system keeps curtain material secure even during inclement weather. The cable-free design pays back with less upkeep and increased functionality.
Sturdy Built Drop & Roll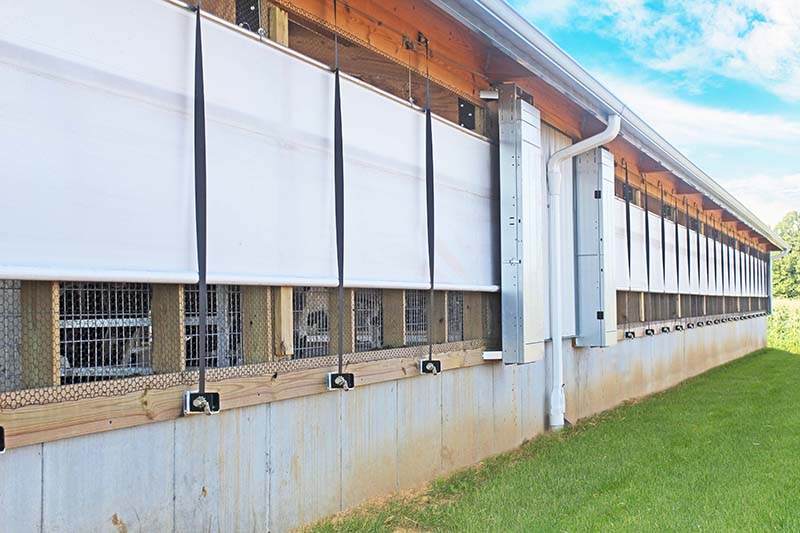 The Sturdy Built Drop & Roll Curtain is an economical and reliable solution for barns with medium height side wall openings and is most commonly used for calf, heifer and tie stall barns, or for crossovers in free stall barns. This curtain allows for air movement top only, bottom only or both.
Sturdy Built Single Roll-Up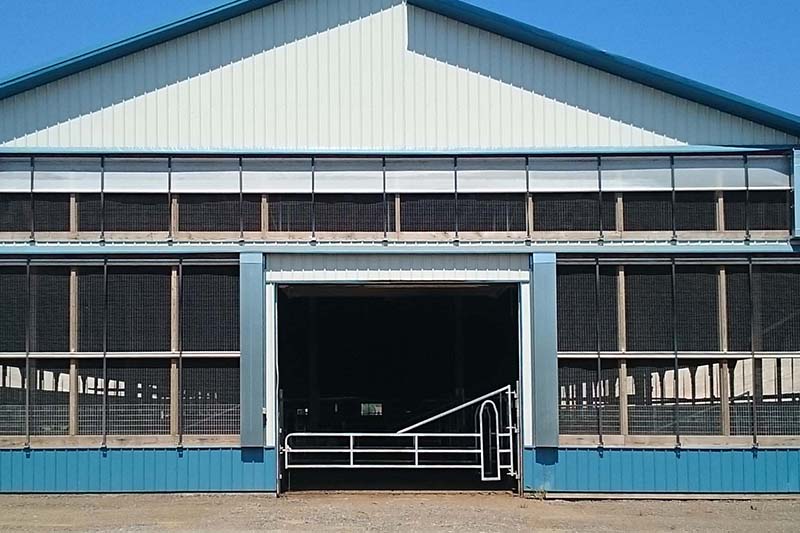 Frequently used in gable ends for tunnel ventilation, the Sturdy Built Single Roll-up Curtain is cost-effective and works well for any facility where top ventilation is not needed.
Sturdy Built Calf Nursery Curtains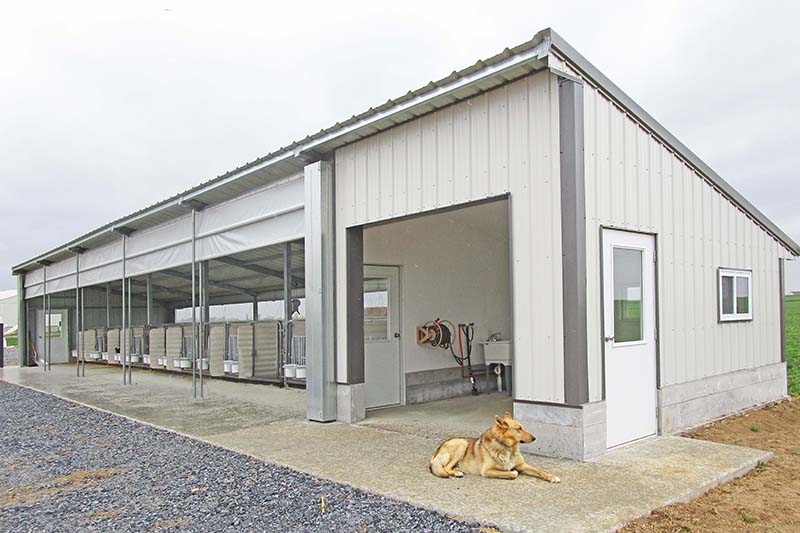 The Sturdy Built Arctic Front Curtain System (above) provides protection against extreme conditions and allows the farmer to care for the calves inside! The curtain is easily rolled up and down as necessary to create a partially or fully open environment with natural air flow.
The Sturdy Built Windbreaker Curtain System works well with the conventional Sturdy Built calf nursery design. This curtain rolls down to the top of the calf gates, protecting calves from chilly winds and winter weather.
Sturdy Built Parlor Curtains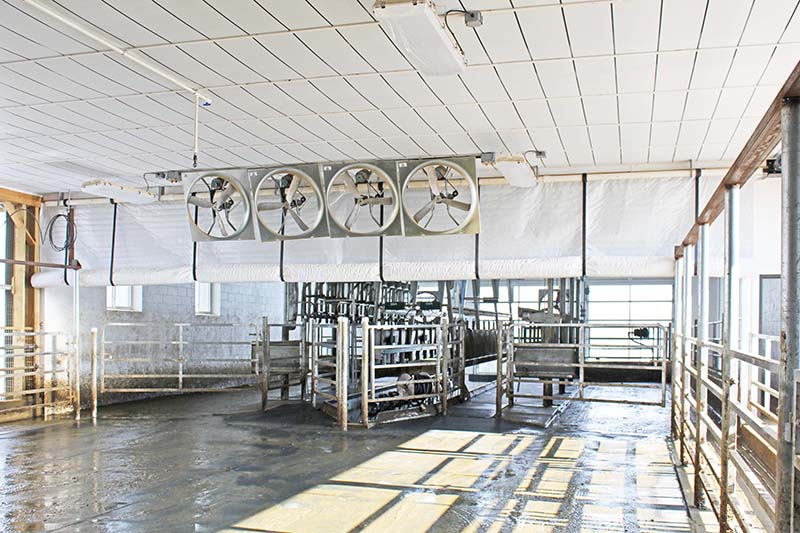 Sturdy Built offers various Insulated Parlor Curtain Designs to fit your milking center, keeping your parlor clean and comfortable year round.

Sturdy Built Quality
Premium-Quality 16 oz. Super Clear Curtain Material
"Super Clear" fabric allows sunshine to enter, providing a natural environment for livestock
Polyester woven scrim provides core strength during stormy conditions and temperature swings
Single piece design (no horizontal splices)
Matte finish does not attract dirt
Superior UV Resistance
Premium-Quality 16 oz. Super Clear Curtain Material
Sturdy Built curtain systems are manufactured with keder tubing as a standard component. The keder tube roll-up system provides ease of installation and years of dependable operation. The hem of the curtain material slides easily into the keder tube and does not require connecting fasteners that will damage the curtain material. Our bolt-together curtain drive adapters are machined to fit snugly inside, ensuring slip-free, everyday operation.
Galvanized Curtain Doors provide Easy Drive Accessibilty
Sturdy Built galvanized curtain drive and tail doors are manufactured in multiple lengths to fit specific curtain openings. The practical hinging design and hand latches provide easy drive access. The doors protect the drive assemblies, lengthening the life of the drive mechanisms, and reduce air flow behind the curtain. Hinging doors are available for the left or right drive ends, and center doors are optional for longer curtains.
Birdwire is Hot-Dipped Galvanized After Welding
We stock multiple sizes of durable bird wire for any height of side walls. Quality wire protects curtains from damage by cows and helps to prevent birds from entering the building. Sturdy Built wire is hot-dipped galvanized after welding to ensure many years of corrosion-free use.
Manual or Electric Drives
Choose the curtain drive that works best for your application; we offer left, right, or center gear drives, available in both electric or manual. The cord guide track for electric drives helps to keep the wiring safe while the drive is traveling. For faster adjustment, manual drives can be operated with a cordless drill.
Galvanized Steel Tubular or Nylon Belt Curtain Restraints
Galvanized wind restraint tubes and mounting brackets provide superior strength on buildings with high sidewalls. The nylon wind restraint belt is a more economical, flexible and durable curtain restraint option.
(Optional) Intelligent Environ-tech Curtain Automation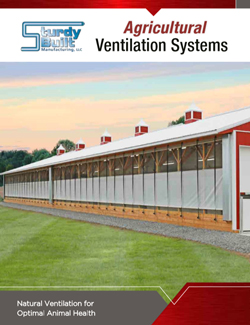 To learn about our curtain systems and to see more photos of our projects, DOWNLOAD our PDF literature.
Download PDF