With high quality control standards and years of experience in laser metal-cutting, Sturdy Built Manufacturing is fully equipped to design and cut volume and small quantity production in extremely complex shapes and configurations. Our floor of laser machines span a full range of industry requirements with no material damage or part distortion. We service customers in industrial, transportation and many other industries and offer timely turnarounds and delivery. Contact us today with your requirements, we are here to assist you!
Laser Cutting by Sturdy Built
Fiber Laser Capacity:
Perfect part removal. Equipped with SmartLift and SortMaster Speed capabilities, this machine sorts, pulls, and stacks parts at high processing speeds. It cuts 60" x 120" ferrous sheet or plate up to 0.500" (steel and stainless) and non-ferrous metals up to 0.250" (aluminum, brass, and copper). Complex contours are created with efficiency and full accuracy.
Fiber Laser Capacity:
Oversized material production at lightening speeds! This machine cuts 80" x 160" sheet or plate up to 1.18" ferrous (steel and stainless) and non-ferrous metals (1.58" aluminum, 0.5" brass, and 0.629" copper). Production is nonstop when synced with the automated sheet storage system. Creating custom shapes and complex geometries is cost-effective with our CNC technology and intelligent nesting software.
Sheet Storage System Automation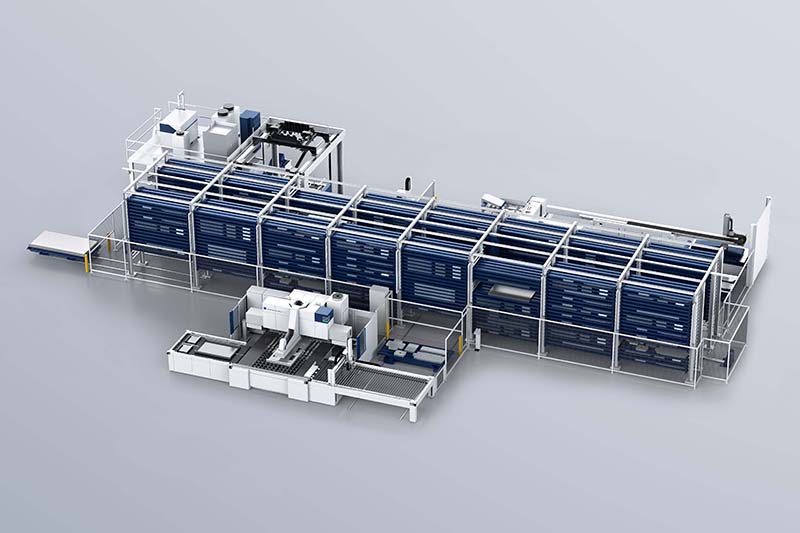 The laser and sheet processing machines at Sturdy Built work in conjunction with the high-volume pallet capacity automated sheet storage system. The automated flow of material delivers high feed rates and increased yields for small and large sheet metal production.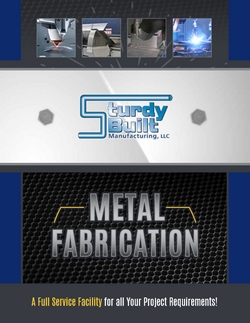 Commercial Fabrication Services
Sturdy Built Manufacturing services many industries including agriculture, transportation / highway / automotive, construction, medical, machinery, mining, furniture, heating / cooling / HVAC and many types of commercial and industrial machinery. We can supply the raw materials for your projects or use your material and are equipped to handle the laser-cutting, forming, tube bending, machining, welding, finishing, and assembly. Partnered for water jetting, galvanizing, and powder coating, we are a one-stop shop for whatever your projects may require. DOWNLOAD our Custom Fab Brochure below for comprehensive services.
Download PDF