For all your forming projects. Sturdy Built Manufacturing sheet and plate fabrication is fulfilled with exceptional accuracy and high repeatability. Fitted for small to large and bulky components, your requirements are our specialty!
Plate Rolling
Plate Roll Capacity:
10 ft. x 3/8 in. x 43.5 in. internal diameter in 65,000 psi steel, or up to 5/8 in. plate with proportional width and diameter. 8 axis CNC control provides the ability to roll cones or multi-radii profiles such as elliptical, oval, and rectangular boxes with radii corners.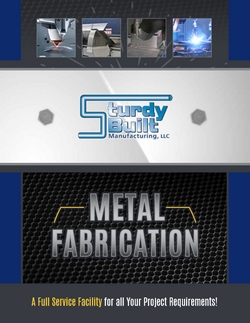 Commercial Fabrication Services
Sturdy Built Manufacturing services many industries including agriculture, transportation / highway / automotive, construction, medical, machinery, mining, furniture, heating / cooling / HVAC and many types of commercial and industrial machinery. We can supply the raw materials for your projects or use your material and are equipped to handle the laser-cutting, forming, tube bending, machining, welding, finishing, and assembly. Partnered for water jetting, galvanizing, and powder coating, we are a one-stop shop for whatever your projects may require. DOWNLOAD our Custom Fab Brochure below for comprehensive services.
Download PDF