Tube cutting, tube bending, tube swaging and manufacturing of tubular components in complex shapes and tight bends. Sturdy Built Manufacturing takes all your tube and pipe projects from start to finish. Servicing many commercial industries such as electronic, furniture, hardware, heating and heavy equipment. Our bending capabilities include mild steel, stainless steel, galvanized and aluminum.
Tube Swaging
Swaging Capacity:
Up to 4-1/2 in. O.D. schedule 40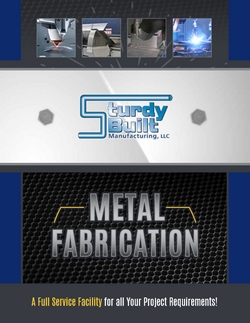 Commercial Fabrication Services
Sturdy Built Manufacturing services many industries including agriculture, transportation / highway / automotive, construction, medical, machinery, mining, furniture, heating / cooling / HVAC and many types of commercial and industrial machinery. We can supply the raw materials for your projects or use your material and are equipped to handle the laser-cutting, forming, tube bending, machining, welding, finishing, and assembly. Partnered for water jetting, galvanizing, and powder coating, we are a one-stop shop for whatever your projects may require. DOWNLOAD our Custom Fab Brochure below for comprehensive services.
Download PDF